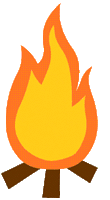 Parent Testimonial
Visijland is great! Great people who care for the little ones, which makes you feel at ease in leaving them in their care. The place is organized and clean and the fact that the kids learn Spanish is a PLUS! Paula T.-March 31, 2015
(Facebook Revew 5 out of 5 stars)
Parent Testimonial
There is a warm feeling at Visijland! I love that when I take my daughter to daycare she has the largest smile on her face as soon as she lays her eyes on Marby and Mrs. Luz! What a great feeling to have as a parent. She is learning and growing in a loving and nuturing environment, I could not ask for anything more! Lattice S.- July 29th, 2015
My now 3 year old daughter loves Visijland. I was a little apprehensive at first using a home daycare. I've always opted for large "name brand" facilities. However, after moving to North Carolina, I really wanted to continue my daughter's Spanish education. From previous experiences with daycares, I've learned it's pretty normal for children to cry at drop off for a week or two until they get adjusted to the new routine. So on my daughter's second day at Visijland I was preparing myself for lots of tears. It was a pleasant surprise when my daughter jumped into Marby's arms as soon as she opened the door. No tears, just smiles. Marby's own little boy is always well mannered when I come to pick up my daughter, which I think speaks volumes about her child rearing skills. My daughter regularly surprises me by the new things (numbers, letters, colors, etc.) that she has learned during her time at Visijland. However, I'm most pleased by how happy my daughter is when I drop her off and pick her up each day. I'm so happy to have found such a hidden gem of a daycare.
Elizabeth C. reviewed Visijland Spanish Immersion Home Daycare —

September 10, 2015
( Facebook Revew 5 out of 5 stars).